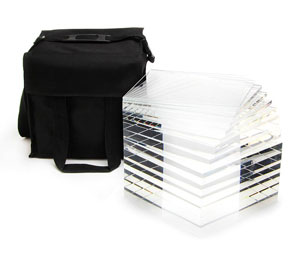 Leeds Test Objects′ TO AEC is an x-ray quality assurance phantom comprising a stack of PMMA plates which allow the user to check the consistency, repeatability and reproducibility of AEC system function.
Polymethylmethacrylate (PMMA) plates with a dimensional tolerance of nominal ±10%. The dimensions of the plates are as follows:
8 pieces – 25x250x250mm PMMA
4 pieces – 10x250x250mm PMMA
2 pieces – 5x250x250mm PMMA
TO AEC is suppled in a protective carry bag.