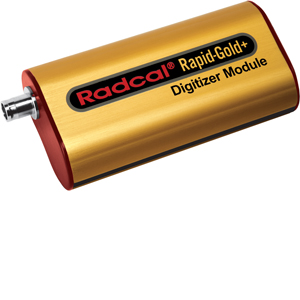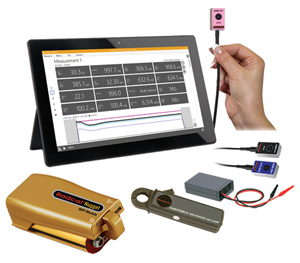 Highly Capable Solid-State Measurement System
The Rapid-Gold+ is the solid-state diagnostic x-ray measurement system in Radcal's Accu-Gold family. Rapid-Gold+ systems encompass Radcal's solid-state dose and multi-sensors along with optional current probes. Radcal's unique stacked multi-sensors design provides unmatched accuracy and reliability along with reduced sensitivity to positioning errors. The Rapid-Gold+ is a balanced and cost-effective measurement solution.
The Rapid-Gold+ is a highly capable diagnostic measurement solution offering support for Radcal's Solid-State sensors and advanced diagnostic functionality.
Systems Solutions
The Rapid-Gold+ provides a tailored solution to your individual diagnostic measurement needs when paired with:
• Radcal's broad selection of Gold Standard sensors
• user friendly display that facilitates recording and reporting of results quickly and easily
• carry case to transport your custom solution securely and conveniently
Sensor Selection
The Rapid-Gold+ supports Radcal's full line of Solid-state Dose Diodes, and Solid-state Multisensors featuring the most accurate and compact stacked sensor design available.
Software and Display Technology
Radcal offers a number of display options including a compact tablet, a full-size tablet with keyboard, or you can use your own computer for a fully integrated and economical solution.  In each case, the Accu-Gold and Accu-Gold Excel software provides a rich, user friendly, and automated environment in which to record, view, and archive your measurements.
Functionality
The Rapid-Gold+ provides a comprehensive set of parameters including Dose, Dose Rate, Waveform, Exposure time, kV, Filtration, HVL, and mA (optional).
Modalities
The Rapid-Gold+ is well suited for Radiography, Fluoroscopy, Mammography, CT, and Dental applications