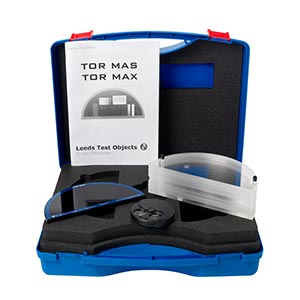 A test object designed to be used quickly and easily on a routine basis to provide an ongoing check of imaging performance, particularly those aspects which are most liable to deterioration. An ongoing record of these numbers will reveal any trend towards deterioration in imaging performance.
The kit consists of:
TOR MAS test object
7cm attenuator stack
Enables the following checks to be made:
Ten-step grey-scale plus two points for Sensitometric measurements.
Resolution limit (1.0 to 20.0 LP/mm) x 1
Low-contrast large-detail detectability (12 details, 5.6mm diameter)
High-contrast small-detail detectability (11 details, 0.5 and 0.25mm diameter)
Irregular-shaped particles on a step-wedge background (median sizes 125, 225, 325 microns representing micro-calcifications).
Low Contrast Resolution Pattern (1.8 to 5 line pairs/mm, representing filamentary structures).