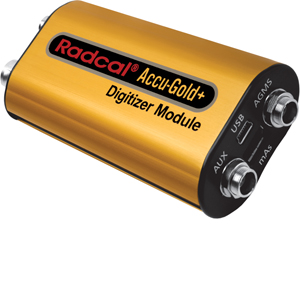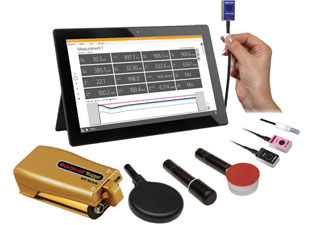 The Next Generation Accu-Gold+ With New Accu-Gold+ Multisensors
The Accu-Gold+ system is the premier diagnostic x-ray measurement instrument in the Accu-Gold+ family encompassing Radcal's unparalleled line of gold standard ion chambers, solid-state dose sensors, solid-state multi-sensors, current probes, and light sensors. The family includes a collection of touchscreen display options that deliver customizable views and outstanding waveform analysis capabilities. Optionally, use Radcal's WiFi wireless adapter for a convenient x-ray measurement solution.
The latest Gold Standard in Diagnostic X-ray meters
Utilizing improved stacked sensor technology allows the new Accu-Gold+ Multisensors to become the smallest footprint solid state sensor available today.
The Accu-Gold+ Multisensor has been reduced 1/3 of its original size with increased dose and dose rate ranges.
Accu-Gold+ transforms your computer into a compact, cost effective, and multi function X-ray analyzer.
Dual Radiography, Fluoroscopy and Mammography Accu-Gold+ Multisensor now available. The AGMD-DM+ sensor has the diagnostic range of 40-160kV and 20-50kV for mammography.
Accu-Gold Software provided with the Accu-Gold+ Digitizer.
Truly Interchangeable Multisensors with other Accu-Gold+ meters.
Uses both Radcal ion chambers and Multisensors.